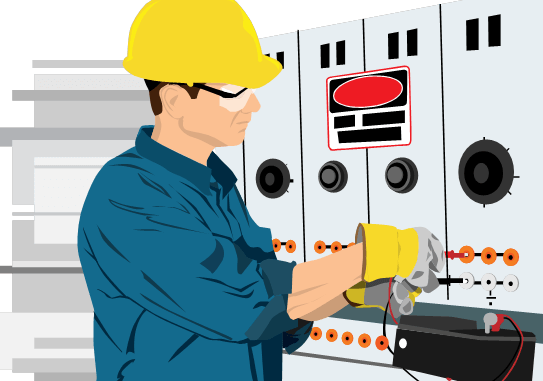 INTRODUCTION :
ELECTRICAL SAFETY. Electricity is an inherently dangerous but versatile source of energy. When it is utilized according to sound safety principles, personal injury and property damage can be effectively prevented. This section contains general information for the safe use of electricity.The course provides you with working knowledge and best practices to help implement programs in the areas of electrical safety at workplaces.
TRAINING OBJECTIVE :
Understand the accountability for installation and maintenance of equipment are most at risk.
Understand that Arc flash incidents, shock and electrical burns result in employee injury and stress, lost productivity, equipment damage and operational downtime.
Know that a key component to a successful electrical safety program is to be aware of current best practices, standards and regulations.
ELECTRICAL SAFETY MATERIAL OUTLINE:
Introduction of Electrical safety system
Review of electrical  (Low, medium, high voltage)
Electrical Hazards and cause of fire and explosion
Electrostatic, Electromagnet, stored energy
Electrical Shock
Arc flash hazard protection
Safety of lightning
Grounding System
Discharge rod and earthing device
Discuse and case study
Current Surges, Clearence and Insulation
Safety in use of portables tools
Lockout Tagout procedures
Safety management and organization
Standard and satutory requirement
Indonesian and International Electricity acts and rules (PUIL)
Personal Protective Equipments (PPE) and equipment for working around electrical hazards
High voltage procedures
Rescue, first aids  and Accident prevention
TRAINING METHOD:
Presentation
Simulation
Animation
Video
Software support
Discuse and study case
DURASI
2 Hari di Yogyakarta (lokasi lain dapat di-request sesuai kebutuhan dan jumlah peserta).
INVESTASI
Rp. 6.000.000,- / peserta
Rp. 5.500.000,-/ peserta jika mengirimkan 2 peserta dari satu perusahaan
Rp. 4.500.000,-/ peserta jika mengirimkan 3 peserta dari 1 perusahaan
Fasilitas
Modul, antar jemput bandara, souvenir, cofee break 2x, makan siang 1x
In House : Rp. 13.000.000,-
Belum termasuk : pajak, copy materi, tiket pulang pergi trainer dan tim, penginapan dan tempat training.
Kontak
untuk info lebih lanjut dan pendaftaran anda dapat menghubungi marketing kami.