TRAINING BALANCE SCORECARD PROFESSIONAL
Training Balanced Scorecard
Training Pengenalan Balanced Scorecard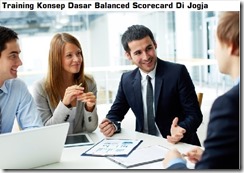 Materi AIM:
The overall aim of the program is to make the participants understand the various aspects of Balanced Scorecard, and how it can be used as a strategy execution tool for enhancing the overall productivity of the organization. The program contains five modules designed in such a way that the candidate being trained is equipped with all the knowledge and practical competencies required to fully understand the various aspects of balanced scorecard and implement it successfully in their organization.
By attending this workshop you'll learn:
* Understand the organizational performance models and diagnose the reasons for the lack of performance in an organization
* Understand the benefits of Balanced Scorecard as an integrated performance management system
* Understand the key terms used in context of Balanced Scorecard like Leading & Lagging indicators, cascading etc
* Learn to develop key strategic profiles/strategic destination, construct and use strategy maps
* Learn the methodology to create and implement a balanced scorecard system
* Learn to develop 4 perspectives of performance measures: financial, customer, internal process, learning & growth
* The ways to sustain and improve the balanced scorecard
Who should attend?
The course is meant for people who are involved at the strategic level of an organization and who are involved in the planning and execution of the various key strategies of an organization. It is designed to cater to those professionals who are/will be involved in the process of organization development, who might not possess a valid certification of their proficiency in organization development.
MODULE 1: PERFORMANCE MANAGEMENT MANAGEMENT BASICS
* What is Performance
* Reasons for Performance Management Systems
* What is Performance Planning
* Why the Balanced Scorecard
MODULE 2: UNDERSTANDING THE BALANCED SCORECARD
* What is The Balanced Scorecard
* Perspectives of The Balanced Scorecard
* Top 10 Reasons for Implementing a Balanced Scorecard
MODULE 3: MISSION, VALUES AND VISION
* Mission
* Values
* Vision
MODULE 4: STRATEGIC PLANNING OVERVIEW
* What is Strategic Planning
* Strategic Management Process
* Strategic Analysis
* Strategic Choice
MODULE 5: SRATEGIC PLANNING OVERVIEW
* Strategy Map as a Step in a Continuum
* Financial Perspective: Long Term Vs. Short-Term
* Customer Perspective: Differentiated Value Proposition
* Internal Perspective: Value Through Internal Business Processes
* Learning and Growth: Alignment of Intangibles
* Bringing It Together: The Strategy Map
MODULE 6: MEASURES,TARGETS AND INITIATIVES
* Performance Measures
* Measure for Financial Perspective
* Measures for Customer Perspective
* Measures for Internal Process Perspective
* Measures for Employee Learning and Growth Perspective
* Criteria for Selecting Performance Measures
* Measure Characteristics
* Using Targets in the Balanced Scorecard
* Mapping and Prioritizing Organizational Initiatives
MODULE 7: CASCADING THE SCORECARD & SUCCESS FACTORS
* What is Cascading
* The Cascading Process
* Key Success Factors for the Balanced Scorecards
MODULE 8: HR ASPECTS OF THE SCORECARD
* The HR Architecture As a Strategic Asset
* Human Capital Readiness
Jadwal Pelatihan Balanced Scorecard Di Jogja :
· 12 – 14 Maret 2019
· 18 – 20 Juni 2019
· 3 – 5 September 2019
· 22 – 24 Oktober 2019
Jadwal tersebut dapat disesuaikan dengan kebutuhan calon peserta Training Konsep Dasar Balanced Scorecard Pasti Jalan
Lokasi Pelatihan Pengenalan Balanced Scorecard Di Jogja :
· Yogyakarta, Hotel Dafam Malioboro (6.000.000 IDR / participant)
· Jakarta, Hotel Amaris Tendean (6.500.000 IDR / participant)
· Bandung, Hotel Golden Flower (6.500.000 IDR / participant)
· Bali, Hotel Ibis Kuta (7.500.000 IDR / participant)
· Lombok, Hotel Jayakarta (7.500.000 IDR / participant)
Investasi Pelatihan tahun 2019 ini :
Investasi pelatihan tersebut menyesuaikan dengan jumlah peserta (on call). *Please feel free to contact us.
Apabila perusahaan membutuhkan paket in house training, anggaran investasi pelatihan dapat menyesuaikan dengan anggaran perusahaan.
Fasilitas Pelatihan Konsep Dasar Balanced Scorecard Di Jogja :
· FREE Airport pickup service (Gratis Antar jemput Hotel/Bandara)
· FREE Akomodasi Peserta ke tempat pelatihan bagi peserta Training Pengenalan Balanced Scorecard Jogja Pasti Running
· Module / Handout Training Balanced Scorecard Jogja Fixed Running
· FREE Flashdisk
· Sertifikat Training Balance Scorecard Professional Di Jogja Murah
· FREE Bag or bagpackers (Tas Training)
· Training Kit (Dokumentasi photo, Blocknote, ATK, etc)
· 2xCoffe Break & 1 Lunch, Dinner
· FREE Souvenir Exclusive