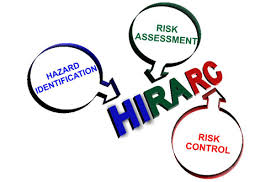 HAZARD IDENTIFICATION AND RISK ASSESSMENT (HIRA)
PENDAHULUAN HIRA

HAZARD IDENTIFICATION AND RISK ASSESSMENT (HIRA). Upaya perusahaan untuk dapat memenuhi berbagai persyaratan konsumen dan persyaratan lainnya, tidaklah membebaskan perusahaan dari tuntutan untuk juga memperhatikan keselamatan dan kesehatan para karyawannya. Berbagai aktivitas kerja–terlepas dari sifat, ukuran, dan kompleksitasnya-mengandung berbagai resiko terhadap keselamatan dan kesehatan dari personil yang melakukannya. Bilamana tidak ditangani dan dikelola dengan baik, maka resiko dan berbagai konsekuensi yang dapat ditimbulkannya, akan memberikan dampak yang signifikan bagi perusahaan. Maka, pemahaman dan kemampuan perusahaan untuk dapat mengidentifikasi berbagai bahaya dan menangani berbagai resikonya menjadi sangat krusial untuk menjamin keberlangsungan bisnis perusahaan, khususnya dalam kaitan dengan persyaratan terhadap Keselamatan dan Kesehatan Kerja.
TUJUAN
Peserta mampu memahami filosofi dan konsep dasar dari HIRA.
Peserta mampu mengerti dan memahami berbagai elemen dari HIRA.
Peserta mampu memahami dan menguasai tahapan penyusunan HIRA.
Peserta mampu membuat dan menjabarkan implementasi HIRA di perusahaan masing-masing.
MATERI
Definisi HIRA
Tujuan HIRA
Proses HIRA
Bahaya (Hazard)
Definisi
Identifikasi Bahaya
Sumber Bahaya
Jenis Bahaya
Bahaya Fiskal
Bahaya Kimiawi
Bahaya Biologikal
Bahaya Psikososial
Sumber Informasi
Konsekuensi dari Bahaya (Keselamatan atau Kesehatan)
Woskshop #1
Resiko (Risk)
Definisi
Penilaian Resiko
Alat dan Metodologi untuk Penilaian Resiko
Likehood RatingSeverity Rating
Risk Value
Risk Matrix
Workshop #2
Pengendalian Resiko ( Control)
Definisi
Hirarki Pengendalian
Jenis Pengendalian
Eliminasi
Penggantian
Pengendalian Keteknikan
Pengendalian Administratif
Alat Pelindung Diri
Workshop #3
PESERTA
–
PEMATERI
Tim Pemateri / Instruktur atau Narasumber yang kami ikut libatkan terdiri dari para Akademisi / Praktisi yang berkompeten dibidangnya dengan Metode Presentasi, Diskusi, Bedah Kasus dan Simulasi.
DURASI
2 Hari di Yogyakarta (lokasi lain dapat di-request sesuai kebutuhan dan jumlah peserta).
INVESTASI
Rp 6.000.000,- / peserta plus penginapan 2 malam
Rp 4.250.000,-/ peserta tanpa penginapan
Minimal running 3 peserta
Fasilitas Pelatihan Hazard Identification and Risk Assesment
Modul, antar jemput bandara, souvenir, cofee break 2x, makan siang 1x
In House : Rp. 13.000.000,-
Belum termasuk : pajak, copy materi, tiket pulang pergi trainer dan tim, penginapan dan tempat training.
KONTAK
Ria Nisbi
Phone: 081325401400
Bagus Nisbi
Phone: 085729384402