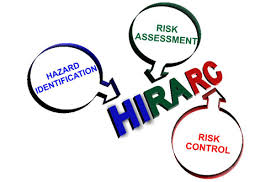 HAZARD IDENTIFICATION AND RISK ASSESSMENT (HIRA)
PENDAHULUAN HIRA

HAZARD IDENTIFICATION AND RISK ASSESSMENT (HIRA). Upaya perusahaan untuk dapat memenuhi berbagai persyaratan konsumen dan persyaratan lainnya, tidaklah membebaskan perusahaan dari tuntutan untuk juga memperhatikan keselamatan dan kesehatan para karyawannya. Berbagai aktivitas kerja–terlepas dari sifat, ukuran, dan kompleksitasnya-mengandung berbagai resiko terhadap keselamatan dan kesehatan dari personil yang melakukannya. Bilamana tidak ditangani dan dikelola dengan baik, maka resiko dan berbagai konsekuensi yang dapat ditimbulkannya, akan memberikan dampak yang signifikan bagi perusahaan. Maka, pemahaman dan kemampuan perusahaan untuk dapat mengidentifikasi berbagai bahaya dan menangani berbagai resikonya menjadi sangat krusial untuk menjamin keberlangsungan bisnis perusahaan, khususnya dalam kaitan dengan persyaratan terhadap Keselamatan dan Kesehatan Kerja.
TUJUAN
Peserta mampu memahami filosofi dan konsep dasar dari HIRA.
Peserta mampu mengerti dan memahami berbagai elemen dari HIRA.
Peserta mampu memahami dan menguasai tahapan penyusunan HIRA.
Peserta mampu membuat dan menjabarkan implementasi HIRA di perusahaan masing-masing.
MATERI
Definisi HIRA
Tujuan HIRA
Proses HIRA
Bahaya (Hazard)
Definisi
Identifikasi Bahaya
Sumber Bahaya
Jenis Bahaya
Bahaya Fiskal
Bahaya Kimiawi
Bahaya Biologikal
Bahaya Psikososial
Sumber Informasi
Konsekuensi dari Bahaya (Keselamatan atau Kesehatan)
Woskshop #1
Resiko (Risk)
Definisi
Penilaian Resiko
Alat dan Metodologi untuk Penilaian Resiko
Likehood RatingSeverity Rating
Risk Value
Risk Matrix
Workshop #2
Pengendalian Resiko ( Control)
Definisi
Hirarki Pengendalian
Jenis Pengendalian
Eliminasi
Penggantian
Pengendalian Keteknikan
Pengendalian Administratif
Alat Pelindung Diri
Workshop #3
PESERTA
–
PEMATERI
Tim Pemateri / Instruktur atau Narasumber yang kami ikut libatkan terdiri dari para Akademisi / Praktisi yang berkompeten dibidangnya dengan Metode Presentasi, Diskusi, Bedah Kasus dan Simulasi.
Jadwal Pelatihan :
12 – 14 Maret 2019
18 – 20 Juni 2019
3 – 5 September 2019
22 – 24 Oktober 2019
Jadwal  tersebut dapat disesuaikan dengan kebutuhan calon peserta
Lokasi Pelatihan :
Yogyakarta, Hotel Dafam Malioboro (6.000.000 IDR / participant)
Jakarta, Hotel Amaris Tendean (6.500.000 IDR / participant)
Bandung, Hotel Golden Flower (6.500.000 IDR / participant)
Bali, Hotel Ibis Kuta (7.500.000 IDR / participant)
Lombok, Hotel Jayakarta (7.500.000 IDR / participant)
Investasi Pelatihan tahun 2019 ini :
Investasi pelatihan selama tiga hari tersebut menyesuaikan dengan jumlah peserta (on call). *Please feel free to contact us.
Apabila perusahaan membutuhkan paket in house training, anggaran investasi pelatihan dapat menyesuaikan dengan anggaran perusahaan.
Fasilitas Pelatihan :
FREE Airport pickup service (Gratis Antar jemput Hotel/Bandara)
FREE Akomodasi Peserta ke tempat pelatihan .
Module / Handout
FREE Flashdisk
Sertifikat
FREE Bag or bagpackers (Tas Training)
Training Kit (Dokumentasi photo, Blocknote, ATK, etc)
2xCoffe Break & 1 Lunch, Dinner
FREE Souvenir Exclusive